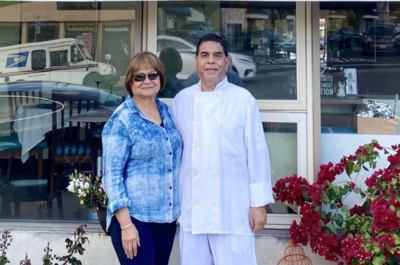 "Anju Kapoor, Mayur Indian Cuisine."
Meet Anju! She is the owner of Mayur Cuisine of India in Newport Beach. Mayur has become a local favorite, serving delicious Indian cuisine since 1984.
When the COVID-19 pandemic hit last year, Anju found her small business struggling to stay open and pay its employees. After many large banks refused to speak with Anju about a PPP loan because of the size of her business, she heard about Infinity Bank. Within just one week Anju received a loan from Infinity and was able to pay her employees, saving her business and everything she had worked so hard to build!
"I had nowhere to turn, and Infinity Bank saved me. They were here for me during the most difficult and trying times, making me feel heard and seen. The size of my business was truly not important; they treated me with such respect and care." - Anju Kapoor
The picture includes Anju and head chef Dharam Singh, who has been recognized numerous times over the past 37 years for his outstanding Indian cooking! Check out their website to view the menu and stop by the next time you are in town!
www.mayuroc.com